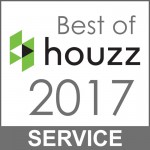 We're delighted to have won a 2017 Best of Houzz Award – the awards were announced recently.
We have been active users of Houzz since early 2016, and intend to expand our presence on the site during 2017.
Houzz is a trove of diverse information and inspiration related to domestic renovation and decoration – at the latest count there were almost 13m photos on the UK site, all rigorously categorised according to the rooms and styles they represent.
Even if your plans in 2017 are modest, a visit to Houzz will almost certainly repay you with some handy guidance and ideas.
Our profile is here.