2-part filler — usually simply called "2-part" or 2-pack", depending on your preference — will set you apart from the herd as your pursue a professional finish. 
Generally: use plaster-based fillers for wall and ceiling repairs; use 2-part for woodwork.
A solvent-based product, you'll work with a golf ball-sized amount of the filler, and mix it well with a pea-sized amount of hardener. The sets off a chemical reaction and, from the moment it has begun, the mix will start to harden: you don't have long — maybe 5 minutes before it starts to become gritty and unworkable.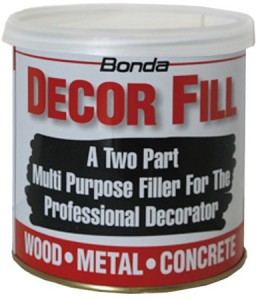 Use it to repair dings and surface damage to doors and skirtings indoors, and see how it really comes into its own for challenging exterior repairs where wet rot has been a problem. 
In terms of manufacturers: historically, the gold standard for professional painters and decorators has been Decor Fill by Bonda.
A more recently launched alternative is made by Ronseal — the big benefits of this are that it is much easier to sand, is easier to feather-in to the surrounding surface, and that it is available in white.