Housing defines the nature of a city. "Every city has its own typology," he explains. "For instance, New York has skyscrapers, while the fabric of London is Victorian housing or row houses."
The chances are good that, as a Londoner, you live — or at one point have lived — in a late 19th-century house. The fabric of the city is indeed Victorian.
The odds are also good that you've encountered potentially quite old Brighton fasteners, steel butt hinges, necked bolts and casement stays, all members of the same class of humble and hard-working objects which attract notice only when they stop working. They are also objects which ought not to be — but tend to be — covered in countless layers of paint.
If you seek a professional finish, one of the first rules you should enforce is: don't paint ironmongery. And if you're truly dedicated to the cause, you'll remove the paint or replace the ironmongery.
Here is a straightforward example of when it was better to simply replace the ironmongery: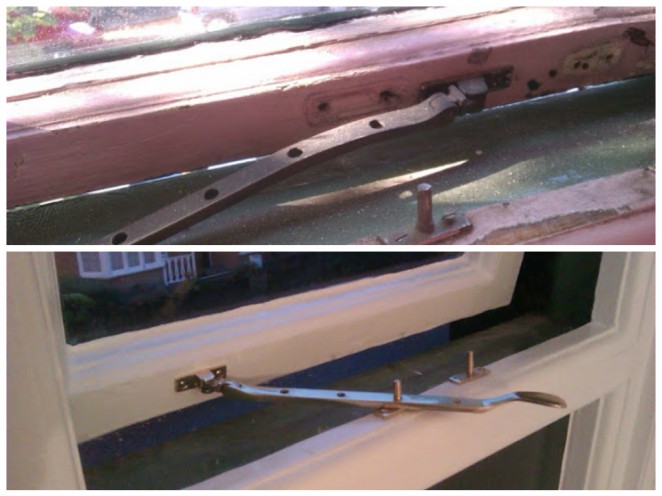 …and here's an example of where it was right to put in the hard yards: using Nitromors to strip the paint from a set of period interlocking brass door handles and bars…
Take your pick — but promise that you won't repeat the sins of those who went before you.